Puppies
After bonding with the cat formerly known as the Devious Defecator, I am now attuned to all things pet-y.
When my good friend Pam calls and tells me all ( and I mean ALL) about her dog Honey's hilarious exploits ('Oh she's a hoot!'), I no longer zone out, wander off to the kitchen to fetch myself a coffee, to return in time to pick up the receiver and say, 'Oh yeah?'
Although zoning out has often brought with it its own unforeseen  consequences…such as unwittingly subjecting myself to Pam's favourite Honey-rings-the-doorbell trick ( imagine the scene : door bell rings, I answer. I look down, I see Honey framed in the doorway. Alone. Muddy front paws already up on the doorstep. Seconds later, attempting to hide the horror in my eyes, Pam's head pops into the frame – 'We're here!' If only I'd  paid attention on the phone…).
Once in, the funniest, most beautiful and tallest labradoodle in the world continues to delight and entrance…Pam. Oh how she laughed when Honey went into the kitchen, and helped herself to a lasagne I'd made for tea.  'She's such a hoot!' 'Isn't she!'
Then there was the time when 'My lovely little funny Honey bunny' sat in my postage-stamp of a pond while Pam sat and watched her. Chortling away. As for me, I was transported back to a time when friends (probably Pam) would allow their toddlers to crunch their biscuits into my carpets or wave their wax crayons scarily close to my newly painted walls. And I couldn't do a thing about it.
But now I've changed. Or at least I'm changing, after the cat (formerly known as the Devious Defecator) experience. Take last week, for instance, when Pam and I left Honey home alone. Even I felt a strange tugging on the heart strings  to see the oversized puppy, huge muddy paws up on the sofa,  beautiful face tilted beseeching to the right, watching us walk away. Without her.
And I didn't even think, never mind say 'Why?' when an old friend bent her head forward and whispered confessionally into my ear, 'I've got a puppy.'  As she waxed lyrical about her lovely, funny bichon frise  her face took on a beatific glow.  'It's like having a baby! Oh my word! It really is.' 
Then it hits me.
I gasp as I foresee a future full of wellies, pooper scoopers, Pedigree Chum and a faint wet dog smell…
Now there's no frock for this Friday just a pair of jeans and a top from Marks and Spencers!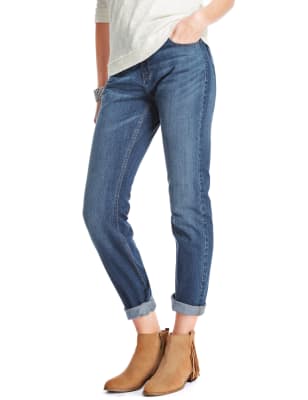 Straight leg jeans £22.50 M&S Indigo Collection
Pretty, flowing pull-on top £29.50 M&S Limited Edition
Lovely delicate blouse. Fewer ruffles on the sleeves would make it perfect. Dresses up jeans a treat.
Time to get myself togged up for all those dog walks. I'm just going to phone Pam to see if I can tag along.